Walking in Provence through famous landscapes….
where art and nature meet, to inspire famous works by Van Gogh and Cezanne, and ATG clients to sketch their journey through this memorable area of France.
Long-time ATG clients Rob and Robin Whitten have captured many of their independent ATG walking tours in Europe with detailed sketch journals. To see their entry for Provence, Vaucluse & the Luberon, click here: sketches from Provence.  You can see more of their ATG journals from walks in Italy and Portugal on their website: www.whittenarchitects.com.
The landscape of ATG's independent walking tour of Provence, France is distinguished by the contrasts of its terrain: low craggy limestone mountains and garrigue (scrubland) versus well-watered plains dotted with poplar trees, orchards, market gardens, vineyards and olive groves.
Image courtesy of client Francis Oravetz
Named by the Romans, 'the Province' where everyone wanted to live, this was the landscape that inspired Van Gogh and Cézanne. Its lovely scenery and picturesque villages also provided the exquisite backdrop to films such 'Jean de Florette'. The area has therefore become renowned for its beauty, its lavender fields, vineyards and flower-filled meadows and its delightful climate with cooling aromatic breezes – not to mention its splendid Roman remains and superb cuisine.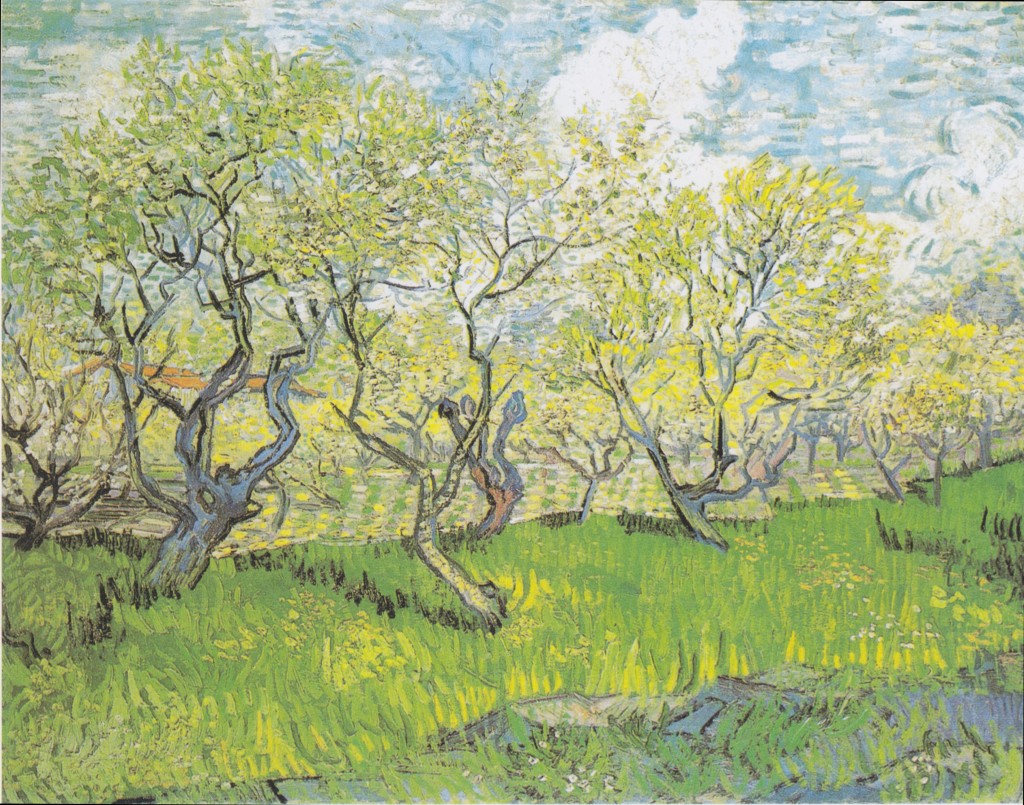 'Orchard in Blossom' by Van Gogh
The tracks are full of wonderful fragrances (various herbs, pine trees) and there are many different species of orchids in the spring. Lavender is in full bloom in mid-June and is harvested later in July. In early summer the fields are full of poppies – reminiscent of Monet's paintings. The chalky ground is especially rich for growing crops and is renowned for its butterflies; the area around Roussillon famed for its ochre soil; and you will pass through classic 'Jean de Florette' scenery. The rare Bonelli eagle is a year-round resident; in summer you may see short-toed eagles, Egyptian vultures, black kites and, at dusk (if you are lucky), an eagle owl.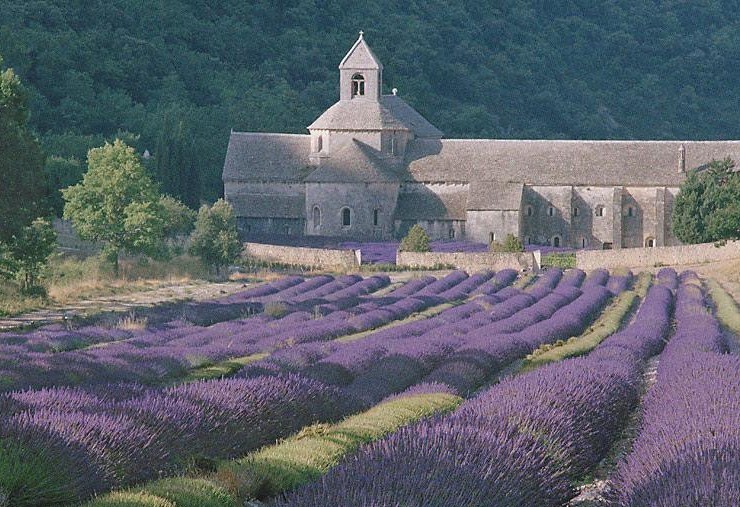 The Abbey of Senanque
Provençal cooking is a seasonal country cuisine built on locally grown produce, local game and raised animals. A wide variety of vegetables: salads, tomatoes, fennel, artichokes, peppers, aubergines etc. as well as fruits: cherries, apricots, peaches, pears, apples etc. and nuts: almonds and walnuts are all grown throughout the Luberon Valley and beyond. Produce is cooked and eaten simply with local olive oil, garlic and herbs. Tapenades (olive pastes), ratatouille (reduced peppers, courgettes, onions & aubergines) daubes (meat marinated and slow cooked in an earthen ware casserole with fresh vegetables) are among many local specialities. Honey, wine, nougat and marzipan are also local products.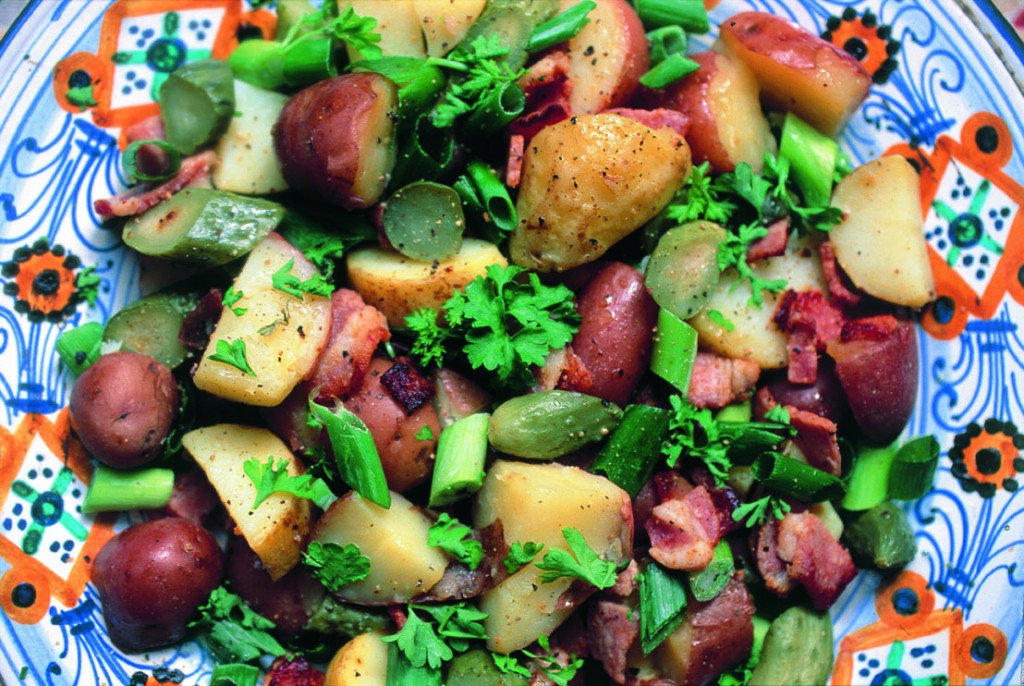 Fresh fish is a more modern introduction to Provençal cooking, being somewhat at a distance from the fish markets of the Mediterranean, hence Brandade de Morue–salted cod emulsified with olive oil, potatoes or bread – eaten in winter. In summer, there's Aioli, which is a strong garlic mayonnaise eaten with fresh cooked and raw vegetables, eggs, olives and salt cod. Now there is excellent fresh fish imported daily from the coast and forms a part of Provençal cooking.
Provence is an ideal area for gourmets, particularly as there are a number of Michelin restaurants along ATG's walking route.
There are also many excellent local wines in the Luberon. The river Calavon, running parallel to Route 100, (D 900), the old Via Domitia (and transversed by the Pont Julien) is a somewhat arbitrary line dividing Côtes Ventoux (towards Gordes, Roussillon, Joucas and other communes, north, up to Mt Ventoux) and Côtes du Luberon (towards Bonnieux, Lacoste and Menerbes, including Lourmarin and points south.)
Côtes Ventoux reds are based on Grenache, Syrah, Cinsault Mourvedre and Carigan. Whites are based on Clairette blanche & Grenache blanc amongst other vines. The Côtes Luberon reds are based on Granache noir, Pinot noir, Syrah, Cinsault, Gamay noir and the whites come out of Clairette blanc & Ulgin Blanc amongst others. There is also a variety of excellent rose throughout.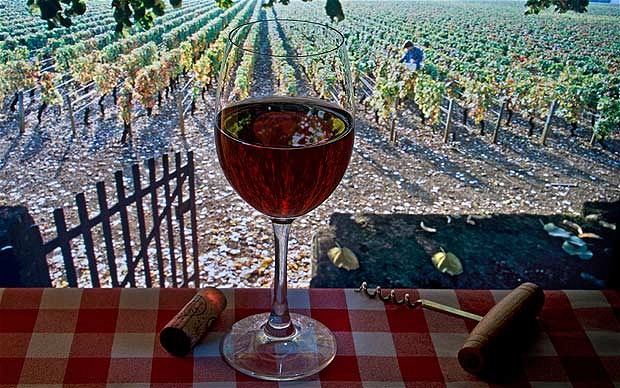 Our Provence: Vaucluse & the Luberon hiking and cycling vacations have so much to offer – wonderful walking & scenery, picturesque villages, vineyards and flower-filled meadows, and excellent food and wine.
Our independent walking and independent biking routes in Provence open in April.
Escorted walking tour Classic Provence  includes three evening meals in Michelin */** restaurants. 2019 dates: 21-28 April; 6-13 October.
We look forward to welcoming you….